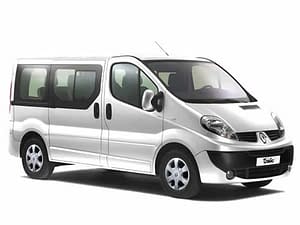 Our Renault Trafic taxis are larger passenger vehicles with space for up to 8 passengers and increased luggage capacity.*
The Vauxhall Zafira will seat up to 6 passengers although with a limited luggage space.
All our vehicles are fully insured to the meet the requirements of Fife Council.
Our drivers are trained and certified to the highest standards, and as a company we go out of our way to provide the services and quality which will inspire you to come back and use GoRa Taxis again and again.
So be safe, sure, and satisfied. Travel with GoRa Taxis.
*The cost of traveling with an 8 or 6 seater vehicle will carry the same meter price as a 4 seater taxi.